*Class Updates*
• Wed, Sept. 27 - 6:30 PM Zumba class has been cancelled.
Group Exercise Classes

Our group exercise program offers a variety of fitness and mind/body classes to help you move in all the ways you desire throughout the week! Our current class schedule offers cardio, strength-based and yoga classes to help you maintain or improve your personal fitness, meet friends and have a good time! And the best part is, classes are FREE for Rec Center members!
Class times and descriptions can be found below:
Group Exercise Classes - Fall 2023 Schedule

Fall schedule runs August 21 - December 15.
Classes will not be held: September 4; November 22 - 24
Click the following link to access the PDF version of schedule: Fall 2023 Schedule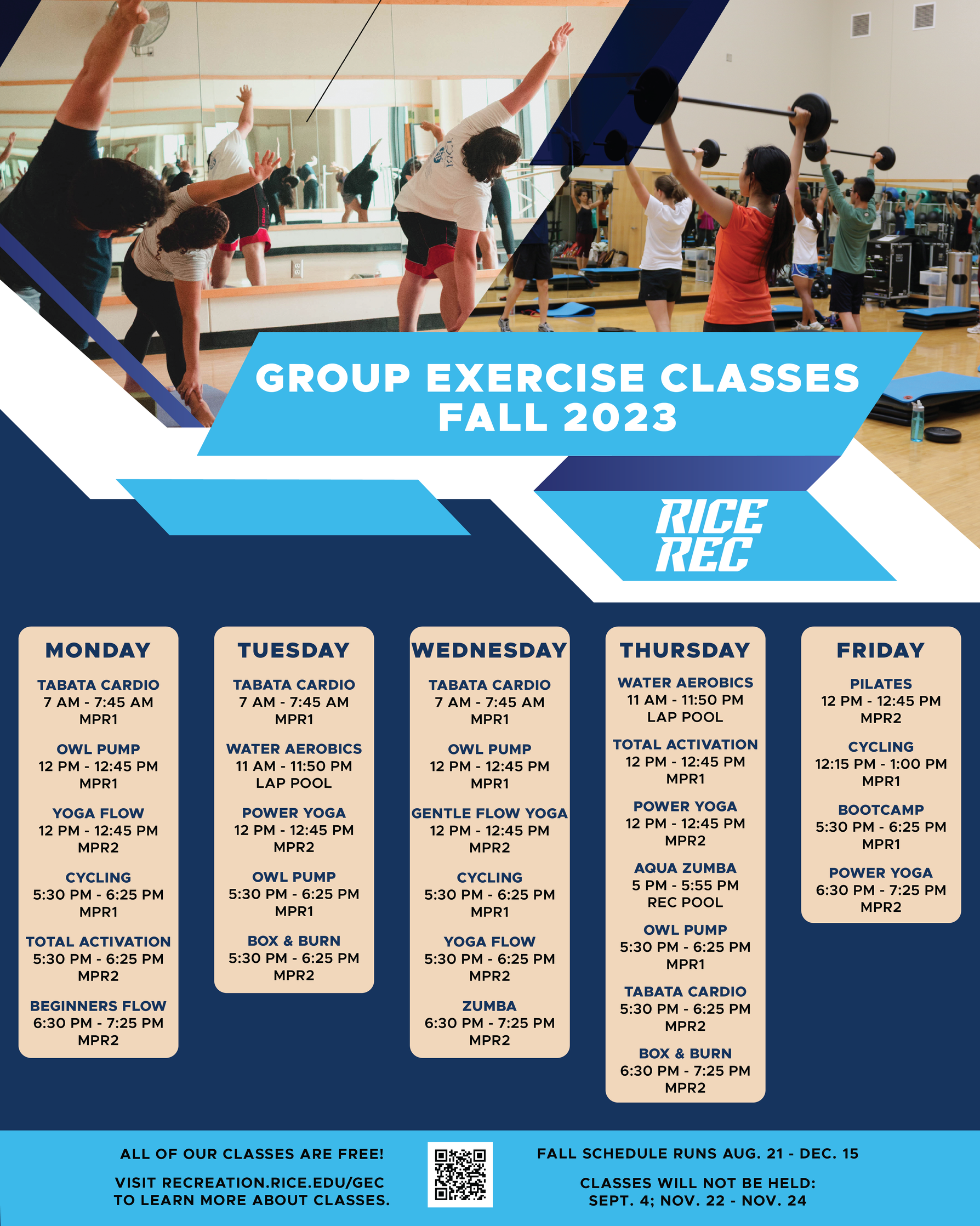 Class Descriptions
Aqua Zumba

Do you love to dance and move to music? Do you love Zumba? Try our new class Aqua Zumba! Just in time for the warmer weather, come cool off and get a fun workout all at the same time!

Barre

Barre is a workout that incorporates yoga, Pilates, strength training and ballet. This class includes specific sequencing patterns and isometric movements to help shape and tone certain muscle groups. Improve your strength, balance, flexibility and posture!

Beginners Flow

New to yoga? Learn how to do it with this beginner friendly flow. Start your week off right. The pace of this class is fit for beginners - you will learn the general poses and concepts to feel comfortable in any yoga class.

Boot Camp

Take your workout outdoors outside with this heart-pounding class featuring sport conditioning drills, strength training and balance exercises.

Box & Burn

Box & Burn is an interactive boxing cardio and fitness class that incorporates the basics of boxing and cardiovascular training to create a one of a kind fun experience! In the class you will learn the basics mechanics of punching and footwork while burning tons of calories and improving cardiovascular health.

Gentle Flow Yoga

Geared for those new to yoga or who are interested in a gentle practice, this flow class features slower paced movements focused on releasing tension and stress while increasing strength and flexibility.

Owl Pump

Hold on to your barbells! This full-body strength and conditioning class is guaranteed to strengthen and tone your entire body faster than your average weight-routine!

Pilates

This class is all levels and will help you to develop a strong connection to your core.

Power Yoga

This class will challenge your body and mind as you move through postures in progressive, fun and energetic sequences to find your edge.

Step & Sculpt

Distinguished from other fitness classes because of its use of the elevated platform step, this fun, throwback workout will have you wishing you had kept those leg warmers after all!

Tabata Cardio

Cram maximal muscle burn into a minimal time frame with this full-body high intensity workout.

Total Activation

Start your day with total activation of body and mind. This total body workout emphasizes moving mindfully to build a strong core, and incorporates cardio drills, strength training, balance and flexibility exercise.

Water Aerobics

A low impact and moderate intensity water aerobics class where no swimming skills are needed. This class is designed to improve flexibility, range of motion, strength, muscle tone and cardiovascular endurance while using the resistance of the water to cushion the feet, knees and back.

Yoga Flow

This class will engage and require your full presence to move your breath through a strong practice at a moderate pace. Allow the body to fully settle and relax into the movements as you practice. This class is recommended for yogis of all levels.

Zumba

An energizing dance fitness class featuring Latin and International music, Zumba is exercise in disguise! You'll burn lots of calories and have a great time doing it!
Feel free to email us at healthy@rice.edu with any questions or comments.