Join us for Free Stretch Break and Nirvana Meditation Sessions all semester long.

Anyone interested in participating in our lived streamed stretch breaks or meditation sessions will be required to register with the Rec Center prior to gaining access through Zoom. Once your registration is approved, you will receive an email with the Zoom link to access the meditations. Please save this email and do not share it, you will use this link for all future classes.
Stretch Breaks will be held on Mondays and Wednesdays from 12:00-12:30pm
Meditations will be held on Tuesdays and Thursdays from 12:00-12:30pm.
Registration is free and open to the public. Register Here!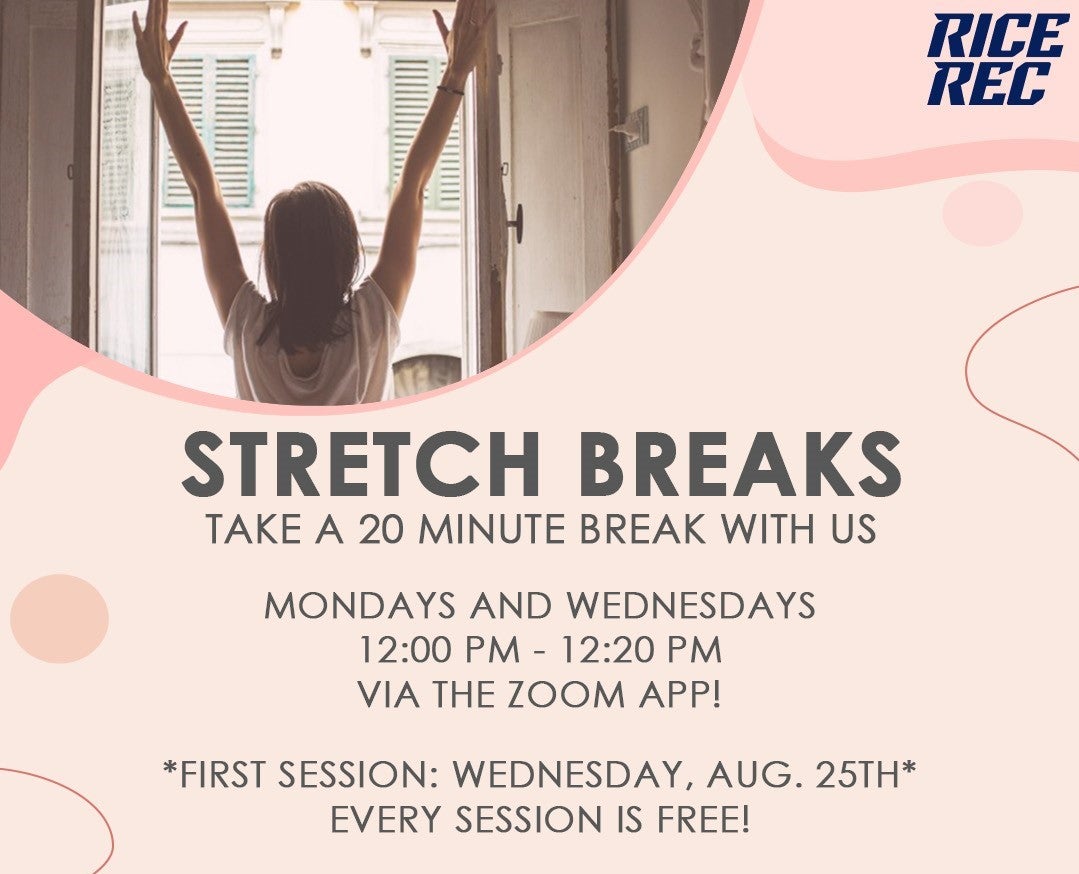 Welcome to our Virtual Community!
We are grateful to have so many of you in our classes and sessions throughout the pandemic. On this page you will find all the drop-in group exercise and personal wellness classes that are currently offered by the Rice Recreation center. Also, we encourage you to tell your Rice community friends and colleagues about this opportunity. If you have questions about any of the class offerings, please contact Sarah Granberry at sg100@rice.edu for more information.
How to Access Virtual the Classes
Recreation Center Membership

Recreation Center members have access to all drop-in virtual classes offered by the Rice Recreation center for the Summer 2021 semester. Most of our classes are held in a virtual format using Zoom. Scroll down to register on Zoom for your class/program(s) of choice.
Non-Members All-Access Passes
Non-Recreation Center Members will be eligible to purchase all-access passes on a monthly basis or for the Summer semester, which will grant access to all of the drop-in virtual programming offered by Rice Recreation Center. Once you have purchased an access pass, scroll down to register via Zoom for your class/program(s) of choice.
Purchase a summer long all access pass for $125.00 here.Register for the virtual group exercise classes by clicking the following links:
Once your registration request is approved, save the Zoom registration email to access any classes within the respective program—you will use the same link all semester. Stretch breaks are taking a break over the summer.
Summer 2021 Schedule Descriptions
The Summer 2021 Schedule runs from June 1, 2021 until August 6, 2021.
Please note, classes will be cancelled on Thursday and Friday, July 1st and July 2nd for the July 4th holiday.
S.W.E.A.T. Classes
Total Activation
Tuesdays and Thursdays from 7:00 a.m. - 7:50 a.m. with Christoph W.
Start your day with total activation of body and mind. This total body workout emphasizes building a strong core and body-mind focus and incorporates cardio drills, strength training, balance and flexibility exercise. What set's this class apart? Intention. Awareness. Goal-Oriented Growth. You may join anytime, but this summer course has been designed progressively and will incorporate regular assessments. Consistent attendance is recommended for the best results, and the instructor requests cameras remain on during class.
Please note: This class is cancelled on Tuesday, 06/22 and Thursday, 06/24.
Boot Camp
Monday and Wednesday at 8:00 a.m. - 8:45 a.m. and Tuesday and Thursday at 12 p.m. - 1:00 p.m. with Johnny.
Experience this heart-pounding class that features sport conditioning drills, strength training and balance exercises.
Chiseled
Mondays and Wednesdays from 12:15 p.m. - 1:00 p.m. with Chris J.
Feel the burn with this total body workout. Each class will target all your major muscle groups, challenge you to the last rep, and leave you begging for more.
Owl Pump (Optional Equipment)
Tuesdays and Thursdays from 5:30 p.m. - 6:15 p.m. with Chris J.
This strength and conditioning class works all major muscle groups. Exercises like squats, presses, lifts and curls will strengthen and tone your entire body faster than your average weight-routine! If you have access to gym equipment, we suggest: 3,5, 8 or 10 lb weights. Two sets of weights is best, one lighter and one medium/heavy. You can also bring tubing and bands if you don't have weights. If you don't have any of the above, no problem, Chris will provide modifications for all levels.
Please note: This class will be cancelled on Tuesday and Thursday for two weeks in July - Tuesday, 07/13, Thursday, 07/15, Tuesday, 07/20 and Thursday 07/22. For a recording of previous owl pump classes, email sg100@rice.edu.
Zumba
Wednesdays from 5:30 p.m. - 6:00 p.m. and Fridays from 12:00p.m. - 1:00 p.m. with Sandye F.
A fusion of Latin, International and popular music/dance themes creating a dynamic, exciting, effective fitness system!
Spin - In Person at the Rec Center
Tuesdays from 12:15p.m. - 1:00 p.m. with Dawn S.
Join Dawn in MPR 1 for a heart-pumping Spin class with music and more.

Strength & Mobility Flow
Monday, Wednesday and Fridays from 9:00 a.m. - 10:15 a.m. with Sarah G.
A dynamic class that pulling from principles of traditional and vinyasa yoga practices. We will work with large and small frame movements, with a specific focus on spinal and joint mobility exercises. Monday classes have specific focus on shoulders, Wednesday on hips and Friday is a fusion which include more core and spinal mobility work.
Core Connection
Tuesdays and Thursdays from 9:00 a.m. - 10:00 a.m. with Bailey F.
This 60 minute class is recommended for anyone who wants to reinforce a strong personal practice. Focus will be on core connection, powerfully aligned postures with longer holds (3-5 breaths) to help find correct muscle engagement and a conscious connection to what you're feeling in your body.
Sometimes the challenge is in slowing down. We will strengthen body, mind and practice with low impact movements and asana. You can expect to end class feeling strong and balanced. Modifications will be offered and are encouraged. I love to utilize props, bring what you've got!
Forrest-Inspired Yoga
Monday and Wednesday from 12:00 p.m. - 1:15 p.m. with Gimell R.
A mind-body practice that allows one to experience the present moment through balanced alignment in physical postures (asanas), deep breathing practices (pranayama), and mindful awareness by compassionately listening to one's body.
Power Flow
Tuesdays and Thursdays from 12:00 p.m. - 1:00 p.m. with Ruxin F.
This class will challenge your body and mind as you move through postures in progressive, fun and energetic sequences to find your edge.
Mat Pilates
Fridays from 12:00 p.m. - 1:00 p.m. with Chrissy L.
This class is all levels and will help you to develop a strong connection to your core.
Yin Yoga
Tuesdays and Thursdays from 5:30 p.m. - 6:30 p.m. with Tilly S.
All levels- This 60 minute slow and mindful practice, is intended to apply moderate stress to the connective tissues allowing for increased circulation in the joints. We will hold poses for 3-6 minutes, these poses are restorative in nature. Yin Yoga is amazing for gaining flexibility and serves as an exceptional parallel to a "yang" or "Power Flow" practice. Expect to leave class with a similar feeling as if you've just received a deep tissue massage.
Equipment recommended: Yoga Mat, blocks and 1-2 bolsters, if you don't have bolsters pillows are a great substitute.

Join us for a live-streamed cooking demos ("zooking" zoom+cooking). Register Here. Once registered you will receive an email with a zoom link and passcode. Use the zoom link to access the cooking demo. You are welcome to follow along and cook with your instructor or you can simply watch and enjoy. Conversation is encourage. The cooking demo will explore different healthier choice meals that are relatively quick and easy to make. For questions about the cooking demo, please email Sarah at sg100@rice.edu.
Summer 2021 Semester Recipe
TBD
DISCLAIMER: The Rice University Recreation Center provides recreational programming and information for educational purposes. Please consult a healthcare professional before beginning this or any other fitness or recreation program to determine what is best suited for you and your needs. If at any point you begin to feel faint, dizzy, any physical pain, or shortness of breath, please stop participating immediately and if symptoms persist, call your health care provider or 911 in the case of an emergency.